CUSTOMER COMMENT AND PICTURE PAGE
CONGRATULATIONS TO JAMES HENSON WHO WAS OUR 10,000TH MAIL ORDER!
---
Some Nice Remarks from Our Customers!
JEFF
I ORDERED A 2003 UNION PACIFIC DDX40 ENGINE FROM YOU RECENTLY AND THE ENGINE WAS IN MINT CONDITION JUST LIKE YOU SAID IT WOULD BE. I'M REALLY GLAD YOU COULD HELP ME OUT, AND IT'S ALWAYS A PLEASURE TO DO BUSINESS WITH YOU.
THANK YOU
RON HAAS
ELGIN IL
Jeff,
First off I want to thank you for the good service I received from both you and Roger. Your interest at the outset was what made me willing to drive the 3 hours to your location. Roger's assistance was what made me willing to double what I intended to originally spend.
I do, however, need two things from you.
One, I did not get a receipt for the items I had to purchase at the last ( some track and wiring). If you need me to detail what the items were, let me know.
Two, Roger could not get the unit to record a message before we left. I too, have tried, both through the internal, as well as an external mic and still can not get a recording. This feature is one of the reasons I bought the DCS kit. Roger spent a lot of time trying but was not successful. Please see what you can find out about this.
Thanks
robert.davis@iowa80group.com
Dear Jeff
Thanks for filling my order for the PA Madison set.
You said I would be happy with this set and it will look great with the steam engine and tender I have.
I appreciate you great service and thanks for the catalogs you put with the order.
I will keep you web site handy as well as your phone no#. I'm sure I'll be ordering more from you.
Thanks again
MIke Carr
Jeff,
The Train loft custom run K-Line UP boxcar trio has arrived and as promised, are fantastic. I didn't think it possible to top the UP tank car set nor the UP caboose, but I may have been proven wrong. Again, the loving attention to detail and paint is apparent and I thank you. I also want to thank you for your thoughtful recommendations of the additional sight-unseen K-Line cars, all are simply great. It' obvious that You possess a true understanding of your client's desires.
Jon
Hi Jeff,
Just a quick note to let you know that the package arrived yesterday in excellent condition. The K-Line UP tank car set and caboose are stunning and are my new favorites. The high level of detail and thoughtful design is exceptional. This has inspired to order the UP boxcar 3-pack. My only regret is missing out on previous runs.
Jeff,
I will go ahead and place a pre order for the ATSF 4-8-4, 30-1562-1, and will send the first payment out on the 1st of December. Also I have been recommending you to anyone looking to purchase an O scale train as your are customer orientated and provide any necessary support. When I am on the other side of the country you will continue to be the first stop for any purchase as you are a great businessman when it comes to purchasing trains. Attached is a picture of my oldest son Caelan with his UP which we purchased from you on the day we received it.
Grayson
Jeff,
The EM-1 and the "Yellow Belly" are both up and running. Thank you for your marvelous selection and your painstaking help. It makes a world of difference actually holing the item in your hands then looking at a catalogue. While I don't get out to Winston-Salem often, I would feel comfortable buying from you via shipping. Keep me posted, I will check you web site often.
Yours truly,
George Jockish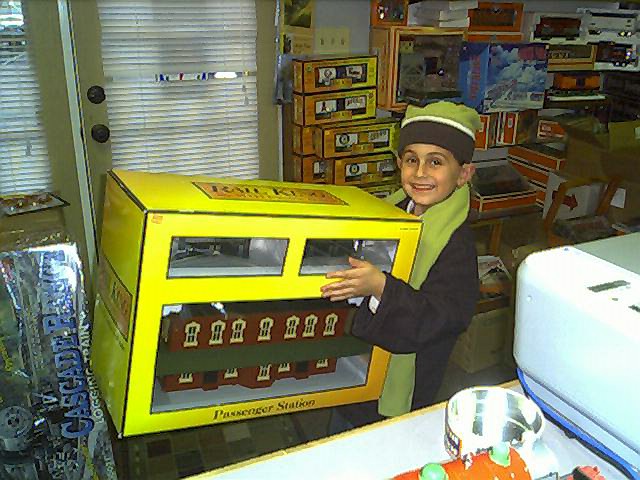 Customers ages range from 2 years to 80 years old! Little Nate, happy w/new purchase.
SOME MORE NICE COMMENTS FROM TRAIN CUSTOMERS!
From: maajmc@guernsey.net
To: JKonc52032@aol.com
> On Sunday, February 29, 2004, at 06:39 PM, Mike Cunningham wrote:Jeff,
Hello Jeff
> I am pleased to advise you that the train set has now been delivered
> I have had a few words with the local shipping agents because the
> packages were delivered to the island on Tuesday Morning and they had
> not bothered to get Customs clearance until after I got on to the
> Customs myself last night so was able to take delivery today
> Although there was considerable damage to the outer box, I am pleased
> to say that apart from slight crushing to one corner of the "green"
> box, that the train set itself is ok.
> Jeff, I think this is a really super set and is definitely one of the
> stars of my collection!
> Please accept my thanks for what you do for me and also for the
> catalogues which you kindly sent
> Best wishes
> Mike
I located my receipt and am happy. Thank you for your efforts. You have done a good job and I am very pleased.
Thanks for the gift. I think I have a location for the "Grapes of Wrath" but I may modify it to make a wine store.
One last item. I sent you a web site that had my train layout. Did you get a chance to check it out? http://www.venturea.com/sr.htm
Stuart
I want to send you this note to tell you that I am Very satisfied with my recent order from the Train-Loft.
The K-LINE/TRAIN LOFT, U.P., Special Hopper 3-PAK was everything I expected! These cars are beautiful! I usually wind up expecting a lot because so much is usually promised! However, I am not always this satisfied with the results! As you might remember, I collect these K-LINE D/C hoppers. I have quite a few, and I'm happy to add these to my colection.
I am also glad to have had the opportunity to obtain the 'uncataloged' Erie/Erie-Lackawanna D/C freight set, as well.
I realize that I [already] asked you to put aside a K-LINE/Train-Loft, U.P. Tank Car set for me, when we spoke. However, I want to CONFIRM THIS RESERVATION! After seeing the pictures and hearing your description of these cars, as well as hearing what details and planning went into them, I don't want to miss out on this opportunity!
Thank you for taking the time to speak with me when I placed my first order with you. I know this is your busy season. I very much appreciate you sharing your knowledge with me, and reviewing your stock of K-Line D/C hoppers with me! I am going to check out your site again, just to see if there are some I might have missed! I changed the way I list all the hopppers I have. I can now determine what I have and need, much easier than before!
Thanks, again. I wish you a Merry Christmas, and a Happy, SAFE New Year!
Best Regards,
Steve Korab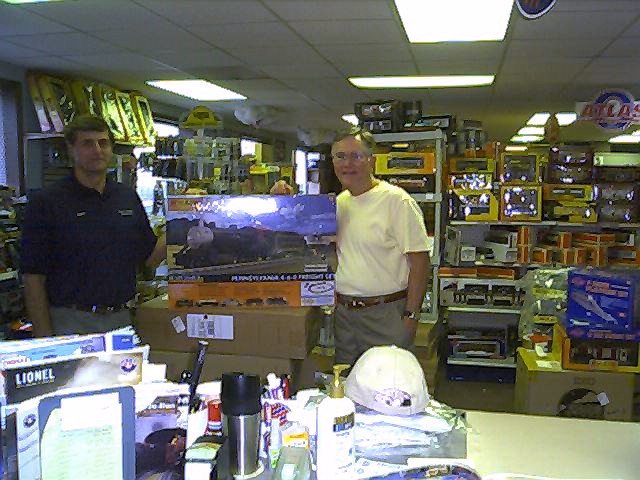 Jeff Konczal, owner of Train Loft, and sponsor of Piedmont Triad O Gaugers train club, presents Don Raker of High Point, NC
with MTH Railking RTR train set he won at Great Train Expo April 1,2012
Subj: Re:customer service
Date: 2/13/2003 9:27:10 PM Eastern Standard Time
From: Traincarguy
To: JKonc52032
Jeff: I want to complement you for taking the time to reply to a "non-client." You are obviously a "service oriented" business and that is why you are successful in a competitive business. If I lived in your area I'm sure I would be one of your clients.
Sincerely, Dave Miller
Dear Sirs:
Placed my order Tuesday last and received the order two days later. Incredible service. The Southern SW-1500 Switcher runs like a top and has yet to leave my layout for any reason.
Once again, thank you for your efforts.
Sincerely,
John F. Hubbard
3029 Braxton Wood Court
Fairfax, VA 22031
Here are some comments from recipients:
JEFF,THE UP BOXCAR ARRIVED YESTERDAY,VERY SHARP!! JOHN
Hi Jeff!
I just want to inform you that I yesterday I received the custom UP Tank Car 3-Pak and they are beautiful. I am as extremely satisfied with this custom run as I was with the UP Boxcar 3 Pak. So, with that said, thanks for yet another outstanding custom special. I look forward to doing business with you in the future.
Kevin Malone
Jeff, the tankers really do look great. I'd like to suggest that you take a poll
of all those who purchased the first set and determine how many (me first !!) will order three others ( say a "Bunker C Oil" car, a "Blackstrap Molasses" car, and a "Hydrazine" car .....as a for-instance) and
do a "second run". UP often ran "unit trains" of tankers...mostly headed from oil fields to refineries....and your reproductions of those tankers would make an incredible unit train....or at least a string of 6, followed by several reefers or boxcars.
Thanks very much, Jeff. These tankers are very handsome cars and blend in perfectly with the armour yellow of MTH and Atlas.Excellent.
Thanks for providing such a quality piece of railroading merchandise.
chuck ferriday
Hey Jeff those tankers are terrific. The additional metal handrails, warning signs and under carriage detaling is great. The aluminum tanks give the cars both a nice smooth appearance as well as having enough weight for good tracking properties. Are the silver ones carrying different loads than the yellow cars? (Jones, Steve)
---
E-Mail to check stock, list your wants, talk trains!
##########################################################################################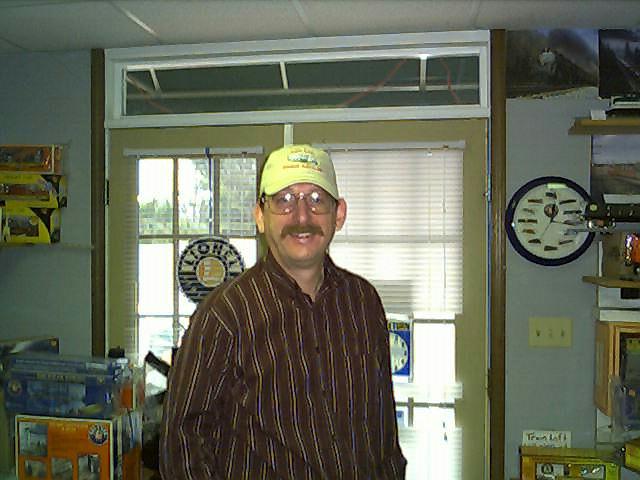 Eric, happy w/new Train Loft hat!
---
Here's a nice comment or two:
Hi Jeff,
I was amazed to see the Royal Mail arriving this morning with what could only be a loco! Only 16 days since you posted it! And what a gorgeous beast it is, I am absolutely delighted.Thank you. I have spent the day looking after my two and a half year old granddaughter, whilst my wife and daughter have been up in London. We have been riding the local trains and feeding the ducks, all good fun, but you can imagine how I have been dying to get home and try out this beautiful loco! One thing I will have to do, is to change from Hi-Rail to scale wheels. It does not like my finescale pointwork. So I was hoping you can supply me with two scale wheel set kits (Item no: 20-89006) I understand from the Operators manual that this is a simple task to change over.
I was very impressed with the various switch gear inside, i.e. 3 to 2 rail, polarity etc. Very clever, someone has certainly spent some time doing their homework!!
Anyway, I will leave that request with you and await your reply with more excitement!
Many thanks again for introducing me to M.T.H. I have a strong feeling that this will not be the only loco coming from The Train Loft!
Best wishes
Rob.
Jeff,
Just a note to say "thanks" again for fixing the engine and for showing
me the MTH stuff. Best train store I've been in, hands down. I sweated
a little when I got home because once I hooked up the engine, the tender
didn't work at first. But that turned out to be simply a matter of
cleaning the contacts (something I probably don't give enough attention)
and replacing the sound battery. Happy to report that everything is
working fine at present. I'm going to read up on MTH trains a bit and
will be in touch. Tim
I recieved the UP Overton passenger cars I ordered from you last week. They ae Just beautiful. It was a pleasure doing business with The Train Loft. Thanks, Steve Kinyoun
From: Bill.Gray@areva.com
To: jkonc52032@aol.com
Hi Jeff----
Brenda and I really appreciated the time you spent with us on our purchases last Saturday. It really did feel a lot like Christmas to both of us and was an enjoyable experience. We are looking forward to getting our layout plan in place and getting some trains running.
I was glad to hear that the Southern diesel switcher I want should be available fairly soon. Would you make a note that we would like to also get the Southern coil car and another Southern caboose when the switcher comes in? We meant to buy the coil car Saturday, but somehow it got lost in the shuffle with all the other cars.
Again, many thanks for your help on our visits. I'll figure out a track plan soon and then call in an order for more track components.
Bill
Dear Jeff:
Congratulations! Apparently you were correct! I installed a new 8.4 v battery, connected it to my external charger overnight and, just as you suggested, The Big Boy operated perfectly this evening on a small test track at home with standard transformer!
I have heard stories about the famous (or perhaps they should be called infamous) MTH battery causing problems and it appears that this was the problem.
To celebrate this great event (!) I would like to order three more of your UP Tank Cars if they are available! Also, please send me two or three more 8.4 V NiCad MTH batteries if you have them!
GWD
Hey Jeff,
Received the Big Boy, fantastic! Really surprised to see how quickly it arrived, and everything as promised!. Thanks for the super service, our merchants up here in Canada should take note from you on how to deal with customers, properly!
I should have asked you about the TMCC for the system. What is the price for the control unit? I think the transformer I purchased will work with the unit.
Again, thanks for the super service and I look forward to continue doing buisness with you!
Regards,
Robert Ree
From: oltimer@charter.net
To: jkonc52032@aol.com
Sent from the Internet (Details)
People may know your product but they don't know your great service.
Thanks again
Oltimer
(Train Shed)
From: jrenzi007@bellsouth.net
To: JKonc52032@aol.com
Sent from the Internet (Details)
Thanks so much for turning us on to this great pastime....you are so knowlegable but still have that childish thrill about you...thanks again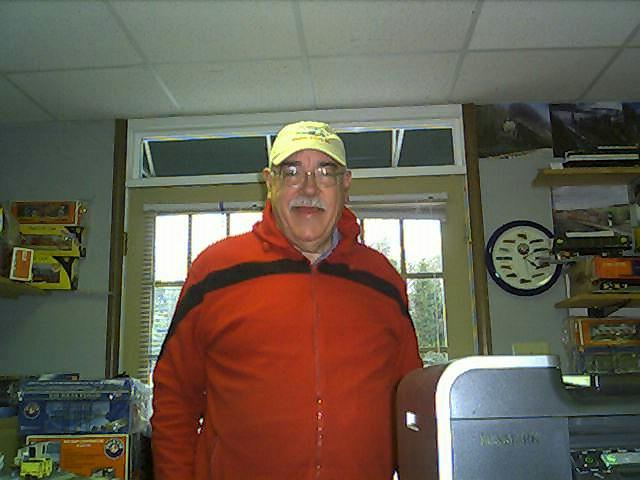 Mr. McDaniel, happy w/new Train Loft hat!
More Nice Remarks from Our Customers!
Hi Jeff,
I just wanted to drop you a note and say what a pleasure it was to meet you Friday. You have a wonderful store and great inventory. I now know that you will be the "first stop" for all my model railroading needs. Please let me know about that NY Yankees Box car...my son really wants it!
Thanks again!
Chuck Bessels
Irmo, SC
Jeff
The UP came today and my oldest son Caelan loved it! As always I am greatly indebted to you and the Train Loft when it comes to O gauge MTH trains. Expect more business from me as my youngest son Eli has already identified a train in the catalog you included telling Cindy, my VERY understanding wife, while pointing at the train saying train, train, train go! I will continue to use The Train Loft for all MTH and O guage train needs and with fours sons who want trains it may keep me busy! Once again thanks with one last word if i know of anyone wanting to get their son or themselves an O gauge train I will highly recommend you.
Grayson
I would like to say that you were very helpful with my locomotive. It was easy to switch the battery and the locomotive runs great. I didn't know that it had crew chatter until I heard it. It is a great locomotive. And thank you so much for the train. I like this engine and look forward to continue buying trains from your store.
Thanks,
Alex Butner
Howdy Jeff-
Just wanted to drop you a note to thank you for all the help in getting my new layout up and going. I am so glad I followed your advice and went with the MTH system. It is great and the sounds and smells are just great! I hope to add a lot more stalls to the roundhouse soon.Thanks for your help with the DCC issue. My fat little fingers were turning the cab lights off while running the train! The DCC is great and the engines just really drag down and operate smoothly at 2-3 mph. Really tremendous.Try to find me a Clinchfield premier Challenger if you can. Thanks so much for all your help-
Ken "Fatfingers" Riddle
Jeff,
The shipment arrived today! ....AAA+++
The cars look great!
Thanks much, George
Hi Jeff,
I just wanted to let you know that the Lionel/K-Line Big Boy caboose arrived in good order last evening and to also say thanks for a really outstanding addition to my rolling stock for my Union Pacific Big Boy lineup.
Regards,
Bob Voegtly
Hi, Jeff --
Just wanted to let you know that my UP "Survivor" caboose arrived a few minutes ago. Wow! Great caboose! Beautiful graphics! It's a fantastic addition to my other K-Line Union Pacific scale cabooses.
Thanks for shipping the caboose so promptly. I'll be glad to recommend the caboose or any of the other special run UP items I purchased from you to anyone who asks!.
Sincerely,
Rodger Pitcairn
thanks for your quick reply ! !
no thanks for the complete refund I'd like to have the caboose.
i'll wait just please keep me in formed and let me know how much the shipping is so i can pay it before hand.
thanks for a great web site as well.
from what ive read everyone likes and has heard of the train loft.
thanks and patiently waiting.
ron
Subj: trains
Date: 11/3/2006 7:38:11 AM Eastern Standard Time
From: jerry804@adelphia.net
To: jkonc52032@aol.com
Sent from the Internet (Details)
you have a awesome site---